[Angebot] bis zu – 30% Rabatt bei Beauty Bay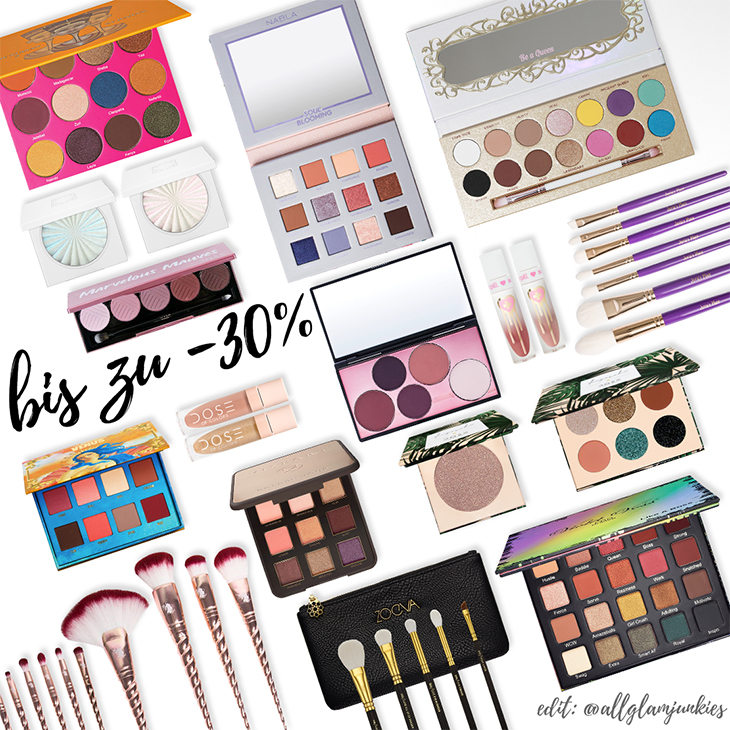 OMG!
Beauty Bay° hat viele Produkte (1.275) bis zu 30% reduziert.
Mit dabei sind unter sehr vielen anderen Produkten:
Dose of Colors x Iluvsarahii Collection
Dose of Colors Block Party Eyeshadows
Dose of Colors Sassy Siennas Palette, Baked Browns Eyeshadow Palette, Marvelous Mauves Eyeshadow Palette und EyesCream Limited Edition Palette
Ofra X Nikkie Tutorials Highlighter
Lunar Beauty Life's A Drag Eyeshadow Palette
Nabla Soul Blooming Eyeshadow Palette
Violet Voss Like A Boss Eyeshadow Palette, Taupe Notch Palette und Hashtag Eyeshadow Palette
Storybook Cosmetics Wizardry and Witchcraft Palette
viele Viseart Paletten
Juvia's Place The Nubian 2 Eyeshadow Palette und 7 Piece Purple Brush Set
viele Lime Crime Produkte
Elcie Minimalist Mauves Series
Cover FX Glitter Drops
Coloured Raine Cheers To The Beauty Palette und Berry Cute Mini Palette
ZOEVA Screen Queen Eyeshadow Palette, Warm Spectrum Eyeshadow Palette und Aristo Brush Set
Unicorn Cosmetics Royale Collection Rose Gold
Kevyn Aucoin The Neo Bronzer und Prismagic Highlighting Trio
Und sehr viele mehr.
Du benötigst keinen Gutscheincode, der Rabatt ist bereits abgezogen.
Der Versand nach Deutschland ist ab 20€ kostenlos und Zoll fällt nicht an. Zahlen kannst du per Kreditkarte und ab 40€ auch per PayPal.
Und so sehen einige der reduzierten Produkte aus:
iluvsarahii x Dose of Colors Collection:
Swatches der Iluvsarahii Eyeshadow Palette:
Swatches der Dose of Colors Block Party Single Lidschatten:
links von oben nach unten – Shall We Dance, Caffeine Queen, Double Take, Hot Mesh, Wild & Free, My Jam, Sizzle, Lock & Key und Heart of Gold
rechts von oben nach unten – Slinky, Reflection, Olive You, Jackpot, Leaf Me Alone, Nightsky, Teal Me More, Sky's The Limit, I Need Space und X-Ray
Ofra Cosmetics X Nikkie Tutorials Highlighter:
Swatches der Lunar Beauty Life's A Drag Lidschatten Palette:
Swatches der NABLA Soul Blooming Lidschatten Palette:
Swatches der Elcie Cosmetics The Minimalist Mauves Series Lidschatten Palette:
Wie findest du die Rabatt Aktion?