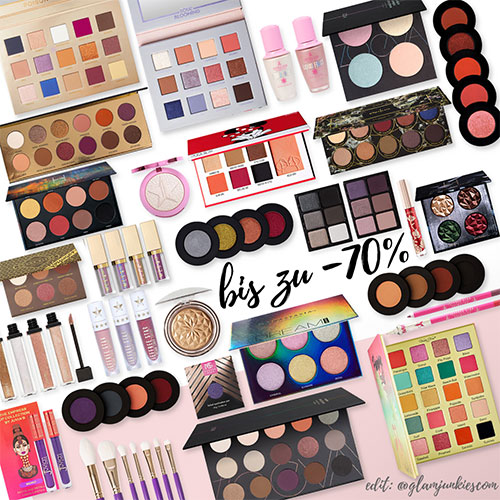 Wow!
Beauty Bay° hat aktuell über 1500 Produkte um bis zu 70% reduziert.
Mit dabei sind unter sehr vielen anderen Produkten:
Anastasia Beverly Hills Dream Glow Kit
Linda Hallberg Metallic Mysteries II und Infinity Deep Palette
Melt Cosmetics Eyeshadow Stacks in Baby Girl, Dark Matter, Gun Metal, Haze, Love Sick
NABLA Soul Blooming Eyeshadow Palette und Poison Garden Pressed Pigment Palette
Viseart Chroma Theory Palette, Amethyst IV Theory Palette, 06 Paris Nude Shimmer Eyeshadow Palette
Dose of Colors Minnie Mouse Eyeshadow And Blush Palette
Dose of Colors Block Party Eyeshadow
sehr viele Makeup Geek Lidschatten (ab unglaublichen 1,20€)
Jeffree Star Cosmetics Liquid Frost und Supreme Frost Highlighter
Jeffree Star Cosmetics Northern Lights Highlighter Palette
Jeffree Star Cosmetics Lip Liner und Velour Liquid Lipsticks
Ofra X Nikkie Tutorials Highlighter
verschiedene Stila Magnificent Metals Glitter & Glow und Shimmer & Glow Liquid Eye Shadow
Laura Lee Los Angeles Boss Babe und Party Animal Paletten
verschiedene OPV Beauty Paletten
Jouer Cosmetics Rose Gold Collection Matte & Shimmer Eyeshadow Palette
Jouer Cosmetics Lippenprodukte
Coloured Raine Queen Of Hearts Eyeshadow Palette, Cheers To The Beauty Palette, Berry Cute Mini Palette
Juvia's Place The Empress Lip Collection
mehrer Violet Voss Paletten
mehrer ZOEVA Paletten
Du benötigst keinen Gutscheincode, der Rabatt ist bereits abgezogen.
>> Hier kommst du zur Rabatt Aktion.° <<
Wie findest du die Aktion?