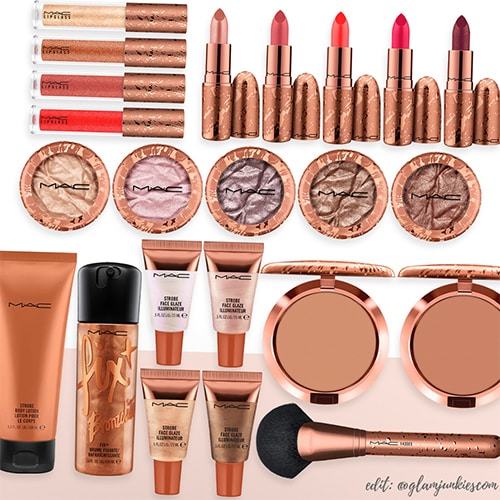 Die MAC Cosmetics Bronzing Collection ist da.
Zur Collection gehören folgende Produkte:
Radiant Matte Bronzing Powder in Totally Taupeless und Beige-ing Beauty
Foiled Shadow in Sand Tropez, Monaco-co, White Haute, Sunphoria, Tide 'n' Seek
Strobe Face Glaze in Like it Lilac That, Let's Make Waves, Magic Hour, Bronzejour
Prep+Prime Fix+ in Bronzelite
Lipstick in Cannes Do!, Wham, Cote D'Amour, Set to Sizzle, A La Plage
Lipglass in Summer Chromance, Too Cool For Pool, Out of This Pearl, Would Rather Lounge
Strobe Body Lotion
143 SES Medium Face Fan Brush
Die Produkte in der limitierten Kollektion haben ein Metallic-Bronze-Packaging mit sommerlichem Wassertropfen-Design.
Hier bekommst du die MAC Cosmetics Bronzing Collection:
>> Bei Douglas°
<<
Denk dran dir die kostenlosen Douglas Goodies zu sichern 😉 .
>> Bei MAC <<
>> Bei Breuninger° <<
>> Bei Lookfantastic° <<
>> Bei Asos° <<
Und so sieht sie aus:
Swatches der Radiant Matte Bronzing Powder (oben Beige-ing Beauty- unten Totally Taupeless)
Swatches der Foiled Shadow
Swatches der Strobe Face Glaze
Swatches der Lipstick
Swatches der Lipglass
Swatches der Strobe Body Lotion und Prep+Prime Fix+ in Bronzelite
Wie findest du die MAC Cosmetics Bronzing Collection?