[Neu] NARS Cosmetics Iconic Lip Collection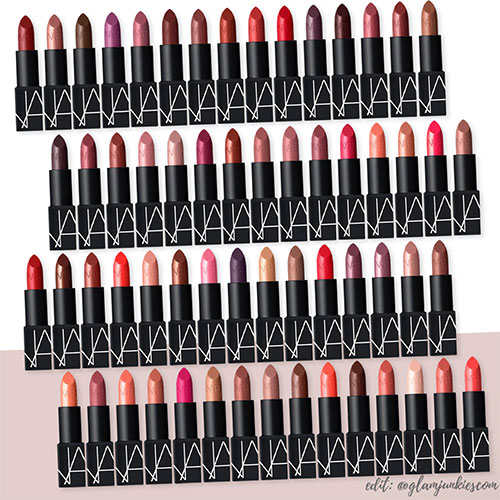 Happy Birthday NARS.
Vor 25 Jahren brachte NARS die ersten Produkte heraus und es waren Lippenstifte.
Um das Jubiläum zu feiern haben sie jetzt 60 neue Lippenstifte herausgebracht.
Sie sind inspiriert von der revolutionären Vision von François Nars.
Die Collection teilt sich in folgende 3 Finishes auf:
sheer (20 Farben)
Klick für die Farben
ROMAN HOLIDAY Sheer light pink
DOLCE VITA Sheer dusty rose
BULGARIAN ROSE Sheer vivid fuchsia pink
DAMAGE Sheer Muted Grape
SHRINAGAR Sheer metallic raspberry
INSTANT CRUSH Sheer shimmering nude pink
FALBALA Sheer shimmering rose
FAST RIDE Sheer Mulberry
GIPSY Sheer berry red
TANGANYKA Sheer neutral plum brown
LIVING DOLL Sheer pink coral
START YOUR ENGINES Sheer bright orange peach
CHELSEA GIRLS Sheer Pink Beige
BARBARELLA Sheer peach
LICENSE TO LOVE Sheer soft rosy coral
LITTLE PRINCESS Sheer shimmering light pink
CRUISING Sheer nude pink
SEXUAL HEALING Sheer shimmering pink blossom
SEX SHUFFLE Sheer Pink with Silver Shimmer
BELLE DE JOUR Sheer nude beige
satin (19 Farben)
Klick für die Farben
AFGHAN RED Satin rich garnet
OPULENT RED Satin oxblood maroon
IMPULSE Satin berry wine
DAMAGE CONTROL Satin bright fuchsia pink
TOLEDE Satin pink rose
HOT CHANNEL Satin shimmering purple
HEROINE RED Satin black orchid
COOL IT Satin metallic mauve
HOT VOODOO Satin fiery molten copper
BANNED RED Satin mulled wine
MALTESE RED Satin burgundy with bronze shimmer
DRESSED TO KILL Satin fuchsia rose with gold shimmer
ROUGE INSOLENT Satin bright red coral
BAD REPUTATION Satin bright stawberry red
RAW SEDUCTION Satin peachy pink nude
ORGASM Satin peachy pink with golden shimmer
NIAGARA Satin pink based coral
MIRAMAR Satin metallic pink copper
ROSECLIFF Satin soft rose
matte (21 Farben)
Klick für die Farben
FORCE SPECIALE Matte warm red
SCHIAP Matte vivid pink
FULL TIME FEMALES Matte deep fuchsia
JOLIE MOME Matte red plum
CATFIGHT Matte nude mauve
HOT KISS Matte dusty mauve
CANDY STRIPPER Matte bright red purple
SOUL TRAIN Matte deep purple
EROTIC ADVENTURE Matte warm plum
LOVIN LIPS Matte light blue pink
DOMINATRIX Matte rich brown
INTRIGUE Matte scarlet red
IMMORTAL RED Matte crimson red
FIRE DOWN BELOW Matte deep crimson
RAVISHING RED Matte bright pink coral
INAPPROPRIATE RED Matte poppy red
POUR TOUJOURS Matte warm pink
BOUKHARA Matte mauve nude pink
RAW LOVE Matte lavender grey
TONKA Matte rose brown
PIGALLE Matte neutral pink chocolate
Hier bekommst du die NARS Cosmetics Iconic Lip Collection:
>> Bei Douglas°
<<
Denk dran dir die kostenlosen Douglas Goodies zu sichern 😉 .
>> Bei Sephora Deutschland° <<
>> Bei Flaconi° <<
>> Bei Galeria° <<
>> Bei Sephora Frankreich° <<
Der Versand kostet bei Sephora Frankreich 9,90€ und es fallen keine Zölle an. Zahlen kannst du per PayPal und Kreditkarte.
>> Bei feelunique°
<<
Der Versand nach Deutschland ist ab 40€ kostenlos. Zoll fällt nicht an. Und zahlen kannst du per Kreditkarte Sofort Überweisung, Klarna und PayPal.
>> Bei Cult Beauty°
<<
Der Versand nach Deutschland ist ab 48€ kostenlos, darunter kostet der Versand 5,95€. Zoll fällt keiner an, da aus Großbritannien verschickt wird. Und zahlen kannst du per Kreditkarte und PayPal.
Und so sehen sie aus:
Swatches
Wie findest du die NARS Lippenstifte?